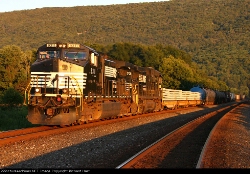 Welcome to the RRPictureArchives.NET contributor site of Richard Hart.



Welcome, I hope you enjoy my photos... for this moody photographer, I shoot in any weather-full sun crowd beware!

The realities of the Northeast dictate lousy weather, grubby places, and getting out when I can get out, weather notwithstanding... but don't fret... plenty of sunny shots are here also!

Some pics here are duplicated on RP.net, most are not.

****

I've been railfanning since the 70's but unfortunately never could afford an SLR until 1982. I shot a lot of slides between 1982-84 but quit after NJT retired my beloved MU's from the ex-EL in North Jersey-that, plus I got to where I couldn't stand NJ driving any more!!

In 2004 we said the hell with it and moved to central Pa., where there are Freight Trains for Real Men and where there is no ratrace. I picked up photography again with a passion, being close to the Middle Division and Buffalo Line.

****

I am diagnosed with major depression-other railfans have shared the same with me-and you will see this in a lot of my shots. Gets tough sometimes. I like'em dark, moody and contrasty! Sweet evening lighting is my favorite, though.

A word on railpictures.net. I learned more about photography there than thru osmosis on my own for the last 20 years. Many warm thanks to them! However, at the same time, I have lots of photos that (I feel) were "RP.net material" but didn't get accepted. Most of those are here.

****

For slides I had a crapped-out Instamatic as a kid, tried a couple of Canon's AE series, then got a New F-1 after the AE's skunked me a few times on automatic. In 2004 I used (and still use) a Sony DSC-P200 Cybershot and finally got a 30D with the L series 28-300mm zoom. Most shots after June 06 are with the 30D.



You may browse my collection of pictures via the menu located on the left hand side of the page. I hope you enjoy the collection and thanks for stopping by!